If you own a business, you should drop everything right now and get a Facebook Page for your business! Facebook is by far the biggest social media platform out there, with billions of users logging in every day. Not only do people just "log in", but most of us spend a substantial amount of our day on social media and scrolling through Facebook. This time can be converted into money for your business… if you utilize it correctly!
Not sold yet? Here are 4 reasons to use Facebook for Business. 
#1 It's FREE!
Setting up a business page is completely free. You don't have to spend thousands of dollars creating a web page, and it can take you ten minutes to get started. That's a win-win if I ever heard of one. While we suggest investing some money later on, you can totally build a following without spending a cent. This is great for small businesses and startups. Not to mention, it's an easy way to let family and friends know about your business! 
#2 Directing traffic to your website
Chances are, you have a killer website! You might have everything set up perfectly for your future customers. But, if no one visits that site, it doesn't matter how good it is. Using Facebook for your business will allow you to post links to your website, add a call to action, and market your products with carousel posts, which are all amazing ways to send people to your website. Not to mention, you'll be able to gather followers, create relationships with them, and communicate your purpose in a concise way. This personal interaction with customers is invaluable for creating loyalty. Who doesn't need that?!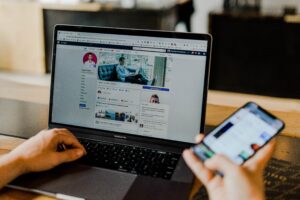 #3 Analytics
Any good business owner knows that there is always a numbers game happening. You've got to know your numbers to know where you're heading! Facebook has amazing built-in analytics tools that will easily help you track likes, shares, followers, and more. You can easily see how your ads are doing, monitor the amount of people you reach on a daily basis, and track new potential clients and customers. These analytics will help you pinpoint several things including: which posts resonate best with your clients, which products are performing better, and you can even edit your ads in real time to save money and time. 
#4 Facebook ads
This is by far our favorite part of Facebook. Recently, our clients have seen explosive growth when using our Facebook Ad system. Your ads can be targeted to specific audiences, current or past customers, people with certain habits or interests, and geographical location. You can pause or stop an ad at any time. This is extremely helpful and saves you tons of money! Facebook ads are set up only according to your budget, so you don't have to worry about spending a fortune. YOU are always in control of your money. 
We have learned so many things about business, and one of them is that Facebook is the key to success for the modern business. Our clients are thrilled at the results they're getting. We are so grateful to help make their business dreams come true! 
If you'd like to schedule a free demo to see what we can do for your business, click here to get started. We're ready to help you take your business to the next level with Facebook. 
Talk to you soon, 
Tuple